News & Events
Establishing two coral nurseries on Anse Chastanet Reef and Turtle Reef
Scuba St Lucia has partnered up with REEF Rescue Network and Perry Institute for Marine Science to launch two coral nurseries situated right in front of Anse Chastanet Resort that can be easily accessible from shore to snorkelers and divers that wish to visit the nurseries on daily basis. Divers will have the opportunity to participate in coral planting, maintenance and even out-planting the corals on the reef. They can also choose to take the course and learn more about Corals and what how to better protect by taking the PADI Reef Rescue Specialty Course.
Kids Sea Camp - July 22 – August 05, 2023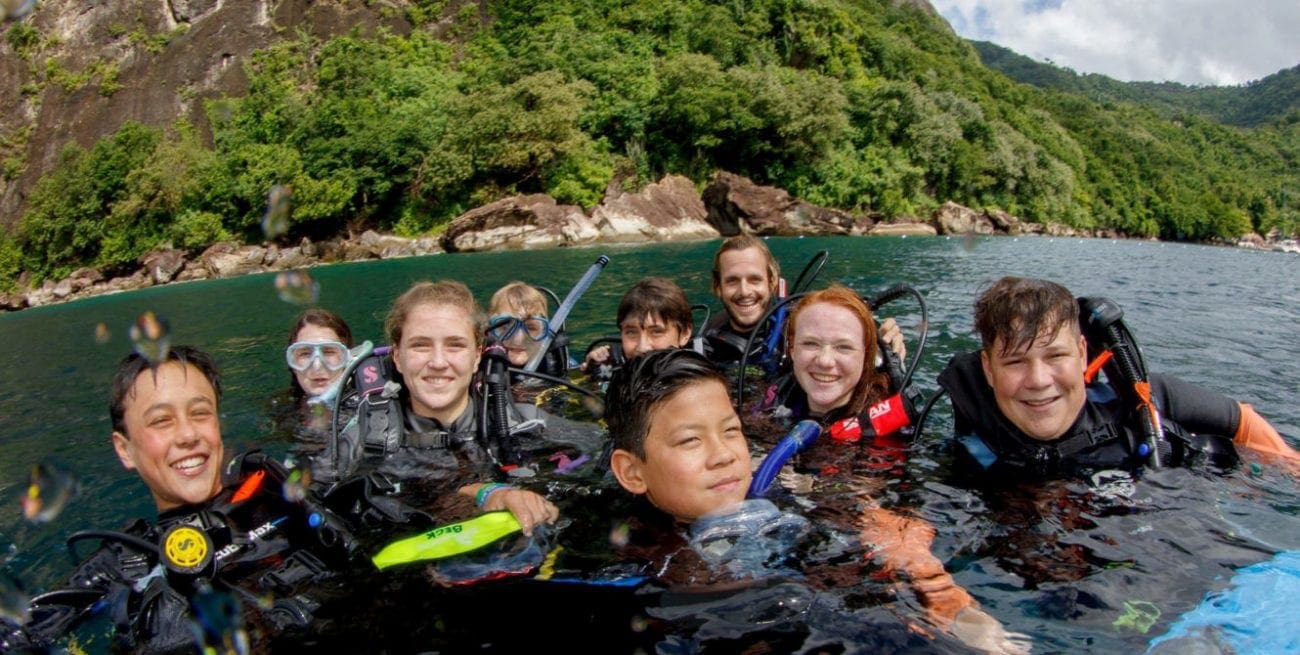 Kids Sea Camp and Family Dive Adventures are honored that Anse Chastanet, this world-famous honeymoon resort allows us to turn it into a family week. Families enjoy coming back to enjoy what they once shared as a couple, but now with their family.
We have included these dive training courses for all ages at the St. Lucia week. These courses are PADI Seal Team and PADI Open Water course for kids or adults. Additional courses that can be booked: PADI Rescue Diver, PADI Night Diver, PADI Dive Master(14-day course).
Our St. Lucia family week activities also include jungle biking, paddle boarding, sunrise and sunset yoga, chocolate tasting, and a world-class spa treatment for the non-divers (chocolate hand and foot massage).
The Annual Spectacle of Coral Spawning
on the Anse Chastanet Reef
The spectacle of coral spawning has truly become an annual highlight event at the Anse Chastanet Resort located in Soufriere, Saint Lucia. The enthusiasm displayed by scuba diving enthusiasts continues to grow year after year for this very unique and remarkable event that occurs in the bay just a few meters off the Anse Chastanet beach. Seven days after the late summer full moon conditions are right to trigger a mass coral spawning episode with the release of eggs and sperm into the water. Based on decades of experience, Scuba St. Lucia, the in-house dive operation at Anse Chastanet, has the timing prediction of this event down to an art. This year the spawning was predicted for 2023 as September 6,7,8.
Learn more & book Coral Spawning Week
The Resorts Protecting and Regenerating The Reef Around Them
Source: Forbes
As well as encompassing 600 acres of its own land, Anse Chastanet overlooks two bays that are a part of a designated marine reserve protecting miles of coral reef teeming with tropical fish. To play a part in the protection of this marine environment, the estate is helping preserve the reef's coral spawning phenomenon in which the coral releases cells that appear as underwater pink and white clouds drifting to the surface for fertilisation. For this process to happen, the conditions need to be just right, so Anse Chastanet ensures the reef's protection, preventing damage from human interaction and controlling the numbers of lionfish, which are known to damage the coral and disrupt the local ecosystem, through a new diving and dining package.
---
Bioluminescent Sexual Courtship displays by Ostracod Crustaceans on the Anse Chastanet Reef
"Thousands of these remarkable crustaceans, called ostracods, tumble out of the reefs just as twilight fades to darkness and the males produce a galactic symphony of blue lights that burst out in precise patterns. Imagine that you are a sesame seed sized guy cruising around in the sea at night trying to not only locate, but also attract, a hot female. How do you do it? Well, one way is to somehow advertise your location with pulses of light! You do this by squirting out molecules that emit light when mixed in seawater. You make a squirt of light, then another, and another …and as more pulses are produced in a row, the earlier pulses slowly fade away yielding what looks like a moving string of tiny glowing pearls in the water. These displays are unique to each species of ostracod, and up to a dozen species can be seen to display in one reef system. This results in a "Dazzling Blue Symphony of Lights!""
---
EAT THEM TO BEAT THEM: ST. LUCIAN 'CONSERVATION CUISINE' BATTLES LIONFISH
Lionfish, one of the most destructive invasive fish species ever to reach the Caribbean, are wreaking irreparable damage on coral reefs by eating practically everything they come across. And they eat a lot: A lionfish's stomach can expand up to 30 times its normal size.
It has become of particular concern to environmentalists who lament the fact that lionfish, with no natural predators in the Caribbean, continue to grow at an alarming rate, with scientists fearing the invasive species may never be entirely eradicated from the region's seas.
But, a high-end resort company in St. Lucia is doing its bit by including the fish as part of its famed cuisine.
Karolin Troubetzkoy, executive director of the storied Jade Mountain and its sister resort Anse Chastanet, together with her culinary team, have launched a "conservation cuisine" initiative preparing the lionfish as a delicacy.
"It is not much of a stretch," declared Troubetzkoy. "Lionfish is a white flaky, but firm, fish with a flavor between grouper and mahi mahi."
To ensure diners get to try as many takes on the fish as possible, Troubetzkoy said, "we are serving a multi-course dégustation menu with paired New World wines, in which we showcase the quality and taste of this very unique fish."
A perfect dinner setting to savor a lionfish meal at two of St. Lucia's leading resorts.
Diners, seated at a romantic beachside candlelit restaurant, are served lionfish as pure sashimi, citrus ceviche wrapped in a crispy tortilla, and either grilled or stewed with the flavors of St. Lucia. "It is always delicious and a very special dinner experience prepared by our best passionate chefs and sommeliers," she said.
And for the diving enthusiasts, the resorts' scuba operation Scuba St. Lucia has introduced PADI's "Invasive Lionfish Tracker Specialty Course", which takes guests on two dives to learn about controlling the invasive lionfish population and discover practical methods for humanely capturing and euthanizing these fish.
Lionfish reach adult size at about two years old, and it's safe to say they won't get anywhere near the endangered species list because a female lionfish can release between 10,000 and 30,000 unfertilized eggs every four days, or about two million eggs per year.
"So, bon appétit and save our seas!" Troubetzkoy quipped.
For further information visit here
About Anse Chastanet
Anse Chastanet is set amid a lush 600-acre estate with two soft-sand beaches and breathtaking views of St. Lucia's iconic twin Pitons mountains, a UNESCO World Heritage Site. Amidst St. Lucia's lush tropical beauty, activities range from jungle biking, hiking and bird watching to snorkeling on the reef within swimming distance of the beach. The environmentally friendly, award-winning resort has 49 individually designed rooms, 37 of which are scattered about a lush hillside, and 12 that are nestled within a tropical garden at beach level. Innovative menus - one entirely vegetarian - are offered in four different locations and feature fresh produce served up from the resort's organic farm. Guests can join interactive chocolate-making classes in the resort's chocolate laboratory, or in a range of watersports.
For further information about Anse Chastanet, email ansechastanet@ansechastanet.com, call 1 800 223-1108 or visit ansechastanet.com

Anse Chastanet is a leading dive location in the Caribbean.
ST. LUCIA'S ANSE CHASTANET NETS SIX AWARDS FROM SCUBA DIVER ENTHUSIASTS
ST. LUCIA (November 14, 2019) - Anse Chastanet is one of the world's best dive resorts, according to the readers of Scuba Diving Magazine.
In the magazine's 27th annual 2020 Readers Choice Awards, the Soufrière-based property received first place for quality of resort, quality of room and quality of restaurant in the Caribbean and Atlantic regions.
Nearly 5,000 readers rated their top picks for scuba diving destinations, operators, resorts, and live-aboards from around the world.
Readers also named Anse Chastanet one of the best overall and for value, and gave Anse Chastanet the runner-up placement for quality of staff. The island of St. Lucia was recognized as one of the best destinations for a healthy marine life and beginner divers.
Karolin Troubetzkoy, Executive Director of Anse Chastanet, said the accolades speak to the importance of not resting on one's laurels. "We would like to thank the readers of Scuba Diving Magazine for recognizing Anse Chastanet and our resort and scuba teams as one of the best dive resorts and experiences in the world, but more importantly, we want to thank our staff for consistently showcasing world-class hospitality each day they show up to excel in their respective careers," she said.

Global travelers visit Anse Chastanet and Scuba St. Lucia for an ecologically rich experience.
Anse Chastanet's in-house PADI 5 Star dive operation, Scuba St. Lucia, holds the coveted PADI Green Star Dive Center Award and offers divers a scenic and ecologically rich diving location right off the resort's shores in the heart of the Soufrière Marine Management Area marine park.
Scuba St. Lucia is one of the longest established diving operations in the Eastern Caribbean and offers a daily scuba diving schedule for experienced and beginner divers alike. Beach and boat diving are offered daily and night diving on the Anse Chastanet reef can be experienced twice weekly.
The annual World's Best Diving & Resorts issue of the magazine will be on newsstands through February 10, 2020.
For further information, visit www.ansechastanet.com or www.scubastlucia.com.
About Anse Chastanet
Anse Chastanet is set amid a lush 600-acre estate with two soft-sand beaches and breathtaking views of St. Lucia's twin Pitons mountains, a UNESCO World Heritage Site. Amidst St. Lucia's lush tropical beauty, activities range from jungle biking, hiking and bird watching on 12 miles of private resort trails, to snorkeling on the reef within swimming distance of the beach. The environmentally friendly, award-winning resort comprises 49 individually designed rooms, 37 of which are scattered about a lush hillside, and 12 that are nestled within a tropical garden at beach level. Innovative menus - one of which is entirely vegan - are offered in four different locations and feature fresh produce served up from the resort's organic farm. Guests can partake in interactive chocolate-making classes in the resort's chocolate laboratory and a variety of water sports are also on offer. The Travelife Gold-certified Anse Chastanet holds TripAdvisor GreenLeaders gold status and is a partner in the United Nations Environment Programme's "Transforming Tourism Value Chains Program".
---
Introducing Our New Dive Boat Miss Babsie
Miss Babsie was custom built in the Dominican Republic by AventuraBoats and designed by the french architect, Luc Guessard. It is a 42 foot Arawak double deck catamaran with 2 x 350HP Mercury engines and a capacity for 30 divers and 60 scuba tanks. There are three diving ladders for easy entry and exit. Two ladders are mounted on the swimming platform at the rear and the third is located on the starboard side of the boat.
The top deck has has an open space where the captain's console is located. There are two heads with electric toilets and a sink with a modern water pressure system.
All of our dive boats are named after team members who contributed to the success of our resort and dive operation. Miss Babsie came out of retirement to christen our new dive boat.
---
---
ST. LUCIAN HOTELIER TAKES ON CARIBBEAN CHALLENGE INITIATIVE
From left: Eleanor Phillips, Director of External Affairs for the Caribbean for The Nature Conservancy; German Ambassador to CARICOM and Chairman of the CCI Steering Committee Holger Michael; Karolin Troubetzkoy, new Envoy for the Caribbean Challenge Initiative; and Yabanex Batista, CEO of the Caribbean Biodiversity Fund.
ST. LUCIA (January 17, 2019) - St. Lucian hotelier Karolin Troubetzkoy has joined the Caribbean's efforts to address the crisis of marine and coastal resources degradation with her appointment this week as Envoy of the Caribbean Challenge Initiative (CCI).
CCI was launched in 2008 in response to the crisis facing the Caribbean's marine and coastal resources. The organization serves as a voluntary, informal and innovative platform uniting a coalition of governments, the private sector and partners around collaborative action to conserve and sustainably manage the Caribbean's diverse marine environment.
Troubetzkoy, the executive director of the storied Anse Chastanet and Jade Mountain resorts, was appointed to the newly created position following a CCI Steering Committee meeting in Castries this week.
"It is humbling to be asked to serve in such an important position to help ensure a more prosperous and sustainable future for the region," said Troubetzkoy. "Creating a more resilient marine environment is a critical component to reduce our vulnerabilities to climate change. These regional challenges are best tackled through inter-stakeholder collaboration. I look forward to building awareness of the CCI, its goals and the opportunities presented by this initiative. Investing my time and efforts in this volunteer leadership role is built on my desire to give back to a region which I have called home for many decades."
This is not the first time Troubetzkoy has held a leadership role in the Caribbean; she served as President of the Caribbean Hotel and Tourism Association from 2016 to 2018. In St. Lucia, Troubetzkoy has recently been reelected President of the Saint Lucia Hotel and Tourism Association, a position she also held from 2010 to 2015. She was instrumental in the creation of St. Lucia's Tourism Enhancement Fund.
Since its inception, CCI has galvanized new funding and concrete action, and has supported Caribbean governments in meeting their conservation and sustainable development commitments. CCI describes itself as an "action shop", emphasizing tangible impacts.
Participating members - including 11 governments and 15 companies - have formally declared their commitment to marine and coastal conservation, and have agreed to take action to help achieve the initiative's two major goals: to conserve and effectively manage at least 20 percent of the marine and coastal environment by 2020; and to put in place fully functioning finance mechanisms that provide long-term, reliable funding to ensure a healthy marine and coastal environment into the future.
To date, five countries (Dominican Republic, Haiti, Puerto Rico, St. Kitts and Nevis, and the United States Virgin Islands) have achieved or surpassed the 20 percent benchmark. The remaining countries (The Bahamas, British Virgin Islands, Grenada, Jamaica, St. Lucia, and St. Vincent and the Grenadines) are actively pursuing plans for declarations to meet their commitments by 2020, and in her new role Troubetzkoy intends to shepherd this process and mobilize high-level political support for major CCI advancements and events.
At the meeting in St. Lucia, the CCI Steering Committee also announced the creation of its 2020 road map, a series of national level activities across the CCI countries to celebrate the countries which have met the "20-by-20" goal and also to encourage those still working towards their commitments.
The centerpiece of CCI's financial architecture is the Caribbean Biodiversity Fund (CBF), which was established in 2012 and currently manages US$70 million towards effective management of the Caribbean's marine environment.
CBF's Chief Executive Officer, Yabanex Batista, commented: "The CBF along with national level funds aim to serve as a financial platform to attract and effectively deploy resources for conservation in the Caribbean. We look forward to working hand in hand with Mrs. Troubetzkoy to galvanize action and increase financial support for achieving CCI Goals."
Financial commitments have been received from The Nature Conservancy, the Government of Germany through the German Development Bank (KfW) and the Global Environment Facility through The World Bank and the United Nations Development Programme.
In welcoming the envoy, Chairman of the CCI Steering Committee, German Ambassador Holger Michael stated: "The appointment of Karolin Troubetzkoy as CCI Envoy represents a significant step in achieving the CCI objectives of sustainable coastal area management."
Eleanor Phillips, External Affairs Director for The Nature Conservancy in the Caribbean, added: "As one of the key architects of the CCI, The Nature Conservancy is excited to have Mrs. Troubetzkoy join as CCI Envoy, a role we see as critical to encouraging CCI member countries to achieve CCI goals by 2020."
About the Caribbean Challenge Initiative (CCI)
The Caribbean Challenge Initiative (CCI) is a coalition of governments , companies and partners working together to accelerate action on the marine and coastal environment.
Founded in 2008 by a group of Caribbean governments eager to enhance the conservation of their marine and coastal resources, the CCI has since grown to include private sector membership and garner over US$75 million in funding commitments. CCI governments and territories signed a CCI Leaders Declaration in May 2013 committing them to effectively conserve 20 percent of their marine and coastal resources by 2020. CCI companies committed to changing business practices and supporting the conservation actions of the CCI Leaders Declaration by endorsing the CCI Corporate Compact.
For further information, visit caribbeanchallengeinitiative.org
---